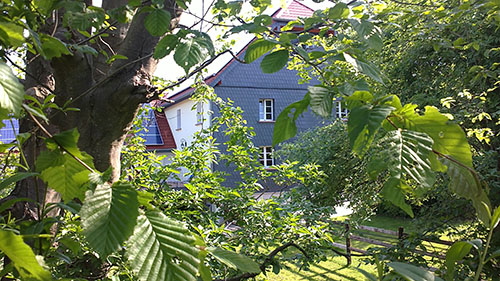 Let me tell you a little bit more about us and our kennel Ozzwarrigal, founded 2003.
Me, Sabien, and my husband Bart live in the area of Trier in Germany.
Our house is located in the " Hünsruck", the most beautifull place with a great share of mountains and woods.
We share our life with five blue heelers, a fifteen year old mixed breed and our two horses Freddie and Lars.
The love for this breed has started in 2000 when we bought our first Australian Cattle Dog Hot Chili's Xcellent Blue Luca.
She has been bred by Martine Drauden, Hot Chili Kennels in Luxembourg.
Luca turned out to be the best agility dog you could wish for and has been a very succesfull showdog who gained the title WorldChampion in 2002.

Since we believe dogs should be full familymembers we do not keep our dogs in
kennels.Our dogs share their lives with us and are always running around the house or
playing outside. We do not sell our dogs to people who keep their dogs in kennels.
We want our dogs to be excellent working dogs as well as high quality show dogs.
Dogs bred by us have proven this so far without losing an excellent character.
I, Sabien, am a licensed agility trainer.This is where my heart is!
I have been competing in agility over ten years with excellent results.
I have the privilige to be able to work with my dogs at home so each dog can be trained
in their own special way. Just remember, every dog is different!

We breed occasionaly, if you feel to be the right person to own one of our special dogs feel free to contact us.
Hope you enjoy meeting these great dogs, always giving their best in all times.... in everything they do.....
Please feel free to come over and enter our cattleworld. Our dogs will let you in after making an appointment.