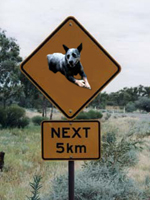 Sabien - Bart
Germany
Feel free to ask questions about the breed, for puppy inquiries please give me some information about yourself, home invironment etc.
Cattledog rules:
If I like it, it's mine.
If it's in my mouth, it's mine.
If I can take it from you, it's mine.
If I'm chewing something up, all the pieces are mine.
If I saw it first, it's mine.
If you are playing and you put it down, it becomes mine.
If its broken, it's yours.